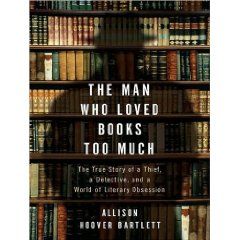 Could it be? Has Allison Hoover Bartlett penned my biography unbeknownst to me? Here is a title that grabs the attention of any self-respecting bibliophile, whose first reaction is to say, "Impossible! There is no such thing as loving books TOO much!" Until you read the subtitle, which is: The True Story of a Thief, a Detective, and a World of Literary Obsession."
I must admit that I skipped over the subtitle when I initially purchased this attractive little volume (the dust jacket has a shadow of a man who looks like Indiana Jones with a shelf full of gorgeous multicolored leather-bound volumes behind him) at the Hastings store in Hutchinson, Kansas. I assumed that it was a second rate mystery novel about a book detective, in the vein of John Dunning's "Booked to Die" series, which is referenced several times. I must say that I was more than pleasantly surprised with the factual nature of the book when I set down to read it just last night, along with the tedious amount of research and fact-checking that went into its' production.
No, this tale falls into the True Crime genre, and most likely will satisfy like a drug for any fan of the genre, along with any fan of Dunning, Nicholas Basbanes, Larry McMurtry's "Books" and anything else of this sort. Written by a relative newcomer to the old white man's world of book collecting and dealing, Bartlett admits her ignorance from the get go, and then proceeds to try and understand the psychological workings of a bibliomaniac by immersing herself in the subculture of rare books. She does this by attending various book fairs, shops, sales, and by interviewing the two characters in the story who could easily be classified as the hero and the villain. Ken Sanders, owner of
Ken Sanders Rare and Used Books
of Salt Lake City, was the acting Security Chair of the AABA (Antiquarian Booksellers Association of America) in the early 21st Century, when our story takes place. He is portrayed as a relentless prosecutor of book thieves (in addition to running an open shop on a more than full-time basis), a counterculture expert, a savvy yet compassionate bookseller, at times a bit of a grump, but on the whole an interesting man whose friends call him "Bibliodick."
On the other hand, we have our resident book thief, John Charles Gilkey, a larger than life character who is an interesting cross between con man Frank Abagnale of "Catch Me if You Can" fame and any sad sap Paul Giamatti has ever played on the big screen (think American Splendor and Sideways). Bartlett goes behind the scenes to visit Gilkey on his "book buying" excursions, as well as in and out of short stints in prison, mostly for writing hot checks, and exposes him to be the brain behind over $100,000 in stolen goods in just a few years time. Gilkey accomplishes all this while working full time in the men's clothing department at Saks Fifth Avenue, and eludes the authorities and a slew of Northern California's finest booksellers for the better part of a decade.
Gilkey is portrayed as such a pathetic, although intelligent and highly capable, sap from the beginning, but any sympathy you develop for him (he steals for his love of books, and not to turn a profit) quickly fades when he boasts of his heists and you can sense his lack of remorse, along with his dementia for any perceived injustice which may have lead him to a life of criminal behavior. Not to mention the fact that many of my bookselling brethren had to chalk up several thousand dollar losses in their earnings to account for this jerk.
As a bookseller, this book certainly makes me take notice of how easy it was for Gilkey to commit fraud. His goal was to compile 1st Printings of Modern Library's 100 Greatest Works of Modern Literature, and by the end of the book, he appears close to completing a large part of this task using only stolen Credit Card receipts from his workplace, which certainly gives me pause to take a Credit Card order over the phone in the future, or at least make sure the billing addresses matches the mailing address. My only aversion to this book was the fact that it may encourage other menaces to society in attempting to pull off similar stunts. Gilkey remains elusive from doing serious prison time right up until the present day, either by dumb luck or an unexpected reserve of cunning maneuvers, you can be the judge after reading the book.
I completed this book in two enjoyable sittings, and believe that it will make a wonderful addition to any collection. I highly recommend "
The Man Who Loved Books Too Much
," and would expect it to remain on the Bestsellers List of most Independent Bookstores throughout the end of the year.
You can purchase the book
HERE
Official Rating: 4.75/5.0Audience: Bibliophiles, Bibliomaniacs, Librarians, Booksellers, Con Men, True Crime Buffs, Mystery and Thriller Buffs, Sick FriendsAccompanying Soundtrack: "Unmap" by Volcano Choir