On Monday, the day of my self-inflicted literary vacation and Day 12 of the Reading & Writing Challenge, I had dinner at Watermark Books, my favorite new bookstore and cafe in town. I ran into my good friend and favorite local bookseller Anne, who serves with me on the Friends of the Wichita Public Library booksale committee. I am always a sucker when Anne picks out a "must read" for me, and on Monday she had two for me (one was purchased as a gift), along with an amazing set of 100 postcards cut from the covers of Penguin paperbacks, which I can't wait to use for my 21 Days of Writing Letters challenge.
I was originally planning on starting the 21 Days of Writing Letters challenge in November, just in time for the holidays, but I've had a lot of inspiration on this front in the past several days and am thinking about combining this challenge with next month's relatively cozy challenge, 21 Days of Walking the Dog. As of today, here's the potential breakdown for my year of challenges:
June: Begin the Project with the Abridged 21 Day Reading & Writing Challenge, to be continued...
July: 21 Days of Walking the Dog / 21 Days of Writing Letters
August: 21 Days of Family / 21 Days of Vacation (yes, relaxing is a challenge for me and my workaholic tendencies!)
September: 21 Days of Golf & Tennis
October: 21 Days of Web Design
November: 21 Days of P90X / 21 Days of Writing Letters, Part II
December: 21 Days of Faith
January: 21 Days of Giving & Random Acts of Kindness
February: 21 Days of Music (Guitar, Piano & Dance)
March: 21 Days of No Microwave/Caffeine/Sugar/Artificial Flavors (the most dreaded challenge)
April: 21 Days of Gardening & Home-Improvement Projects
May: 21 Days of Meditation & Reflection
This is all still very malleable, but this proposed calendar seemed to have the most sensible ebb and flow in accordance with the seasons and moods of the particular month. For example, December seems like the appropriate month for the 21 Days of Faith challenge, and would be a pretty tricky one for Gardening. I also am trying to build a bit of momentum through the process, as some of the initial challenges are much easier, if not pleasurable. Again, the idea of the whole yearlong series is to cultivate healthy habits which should serve me well over the course of a lifetime. I seriously doubt that I am capable of going an entire lifetime without caffeine and sugar, but I have done a Daniel Fast/21 day cleanse before, and ended up feeling as invigorated and energetic as I ever have.

Anne Frey's infamous Hello Kitty stamp and fine stationery
Back to my original thought, when I ran into Anne on Monday and was blabbering on about my challenge, she mentioned her own letter a day writing habit, along with that of a friend and fellow employee who began a similar project, 365letters.com. She also told me that she would help get my letter writing ball rolling by sending me a letter the next day, and true to her word, my first real letter in at least a month arrived in my mailbox this afternoon and made my day! Upon returning home from the bookstore that evening, I remembered a local author publishing a book that was a Watermark bestseller a few years back, regarding the "Art of Personal Correspondence." I'm assuming that they will still have plenty of copies of this one available, as it is still in print. I do have a copy at home, but have only glanced through it on occasion up to this point in time. Perhaps this would be one to add to the newly refurbished armoire.
Also, after experiencing a massive case of real mail envy after
helping my friend Albert sort through his two-day stack
I dusted off my copy of Carolyn See's wonderful book entitled
Making a Literary Life
and reread her chapter on writing "Charming Notes." The idea is to write one note a day to a living author. Nothing too fancy, nothing that smells of self-promotion, just one paragraph about their work and what it means to you, the second about who you are, and finally let them know you're looking forward to their next project. I really appreciate the idea of sending these kinds of positive creative vibes out into the universe. During my 21 Day Letter Writing Challenge, I plan on corresponding with booksellers, friends, family and living authors alike, and perhaps a Penguin postcard to a deceased one or two if I'm crunched for time. (Dear John Kennedy Toole, did you really write
Confederacy of Dunces
or was it actually your friend Walker's successful attempt at a humorous novel?)
I am certainly no stranger to receiving large parcels in the mail, filled with...you guessed it...books. Some of them are returns, some of them are orders I placed. But postcards, handwritten letters, thank you notes- these are a lost art among my generation. The closest that we come to these are usually wedding invitations, however all of my recent thank you notes from wedding presents have been either emails or Facebook messages, with the exception of two or three handwritten notes. I remember writing handwritten letters and postcards to several of my closest friends during college, and I do remember one wonderful pen pal romance several summers ago, but other than that, my letter writing habits have been virtually non-existent. So, having said all that, I think that there is no time like the present to get this habit back in my arsenal, and although I am already embarking on the 21 Day Dog Walking Challenge, I'm pretty sure I can handle them both simultaneously. The only other bummer would be that I am going on vacation in late July, so if several of the letters should receive a response, well, I suppose I'll just have to wait for them until I return home in late August.
Finally, I did receive one particularly awesome parcel in today's mail. Resting underneath my energy bill and an explanation from the City of Andover as to why monthly sewage rates would be increasing was my first ever of the wonderful Powell's "Indiespensable" series, which you can read all about
here
. I am very excited to read Ann Patchett's newest novel,
State of Wonder
, although because I received a signed/limited edition and I am very particular about keeping my collectible and reading copies separate, I just realized I will now have to order a separate reading copy. I'm also curious to examine the inaugural copy of "Lucky Peach," a brand new quarterly journal of Food and Cooking from the folks who bring us McSweeney's. Surprisingly enough, the initial inspection of Issue #1 (The Ramen Issue- haha) does not appear to be a parody, but more of a foodie's delight, complete with their well-known and comical illustrative style. The advance copy of Miriam Toews'
Irma Voth
was the only part of the package I'm not too sure about yet, but I'm assuming the folks at Powell's know what they're doing here. The accompanying shrinkwrapped interview cards and "How We Assembled This Box" glossy cards remind me of everything I loved about those "Go to School in a Box on Wheels" sets I so loved as a child. What the heck were those called...you know, the ones with the animal characters??? Major bonus points to anyone who can remember...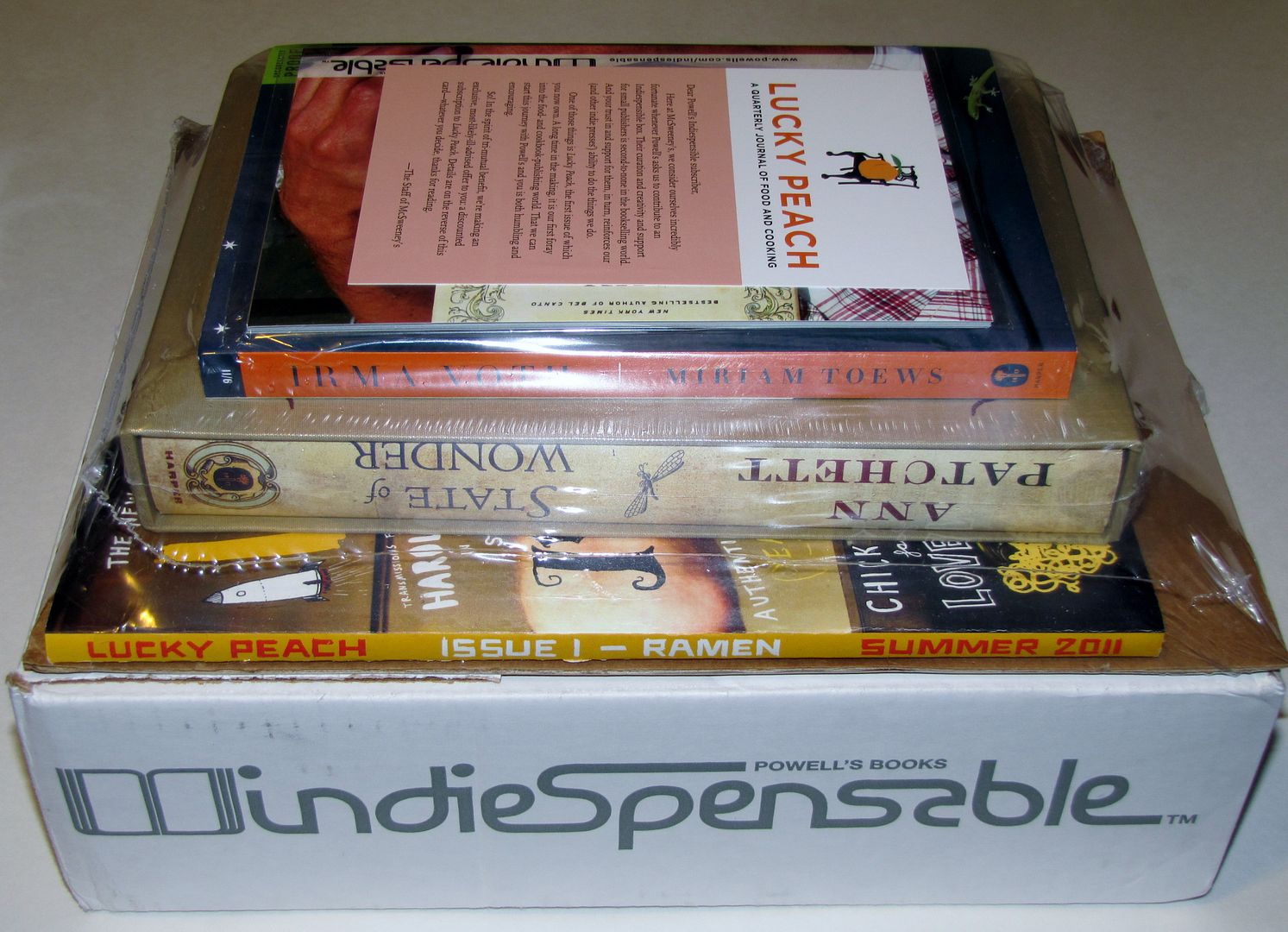 Drat, now I must buy a reading copy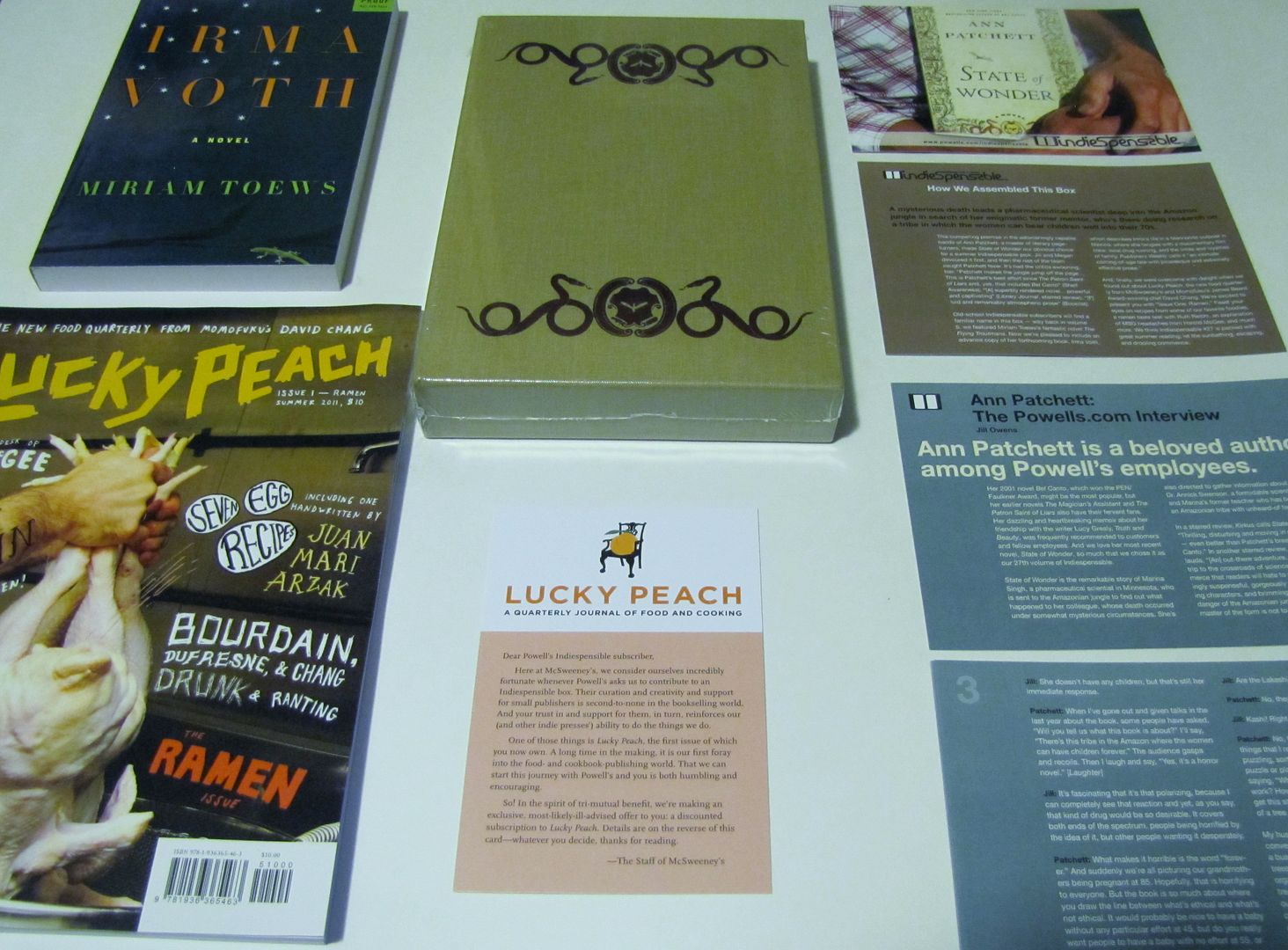 The Booty Unveiled